Hi, friends! Is it just me, or does it seem as though March has flown by? The weather has been up and down, the weeks come and go! Major downer: I don't get a spring break. Major happy thought: it's SPRING, and I don't have to be off school to enjoy it!!! Clinicals are h a r d. School is c r a z y. Life is b u s y, but GOD IS G O O D! Summer break is approaching, the fields are turning greener, and this is me on the inside (and sometimes outside, as well) :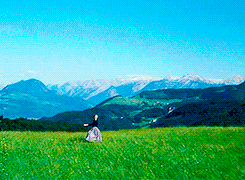 Despite the lateness of this post, NEVER FEAR! I have not forgotten about the playlist!!! :)
1. Ho Hey by The Lumineers - This song has been around for a while, but I just listened to it for the first time about 6 months ago. I was trying to pick a song for our

adoption day video

, and I googled "adoption songs" (original, right?). Several people included this song on the list. I loved how they tied the lyrics "So, show me family" and "I belong with you, you belong with me, you're my sweetheart" to the wonderful never-ending work involved in adoption. I'm pretty positive it wasn't the artists' intent, but it's fun with that view.
2. Coming Home by Rend Collective - I told you guys that Rend Collective was going to be on every playlist ;)
3. Barking at the Moon by Jenny Lewis - Home and family seem to be underlying themes to the beginning of this month's playlist...This song is my favorite thing about the Disney movie Bolt. And it was meant to be included on last month's playlist, but I forgot...so here it is :D
4. All My Days by Alexi Murdoch - This song would make a great instrumental to take a nap by...it's just so relaxing! Upon further inspection of the lyrics, I found that they can be viewed in different lights. I'm not sure the artist's intention, but as my King's daughter, they resonated with me as something that could be interpreted as the process of coming to Christ. It takes "all our days" to pursue a relationship with Him, and the "It's you I'm looking for" I view as my Jesus. Have a listen for yourself, and see what you think.
5. Medhel an Gwyns performed by Elinor Tomlinson - another lullaby-like song! In case you're wondering, "medhel an gwyns" means "soft is the wind" in Cornish. I could probably listen to this on repeat and still think of it as one of the most beautiful melodies ever *sheepish grin*.
6. Stranded by Sierra Hull - okay, Sierra Hull = mandolin goals for me. Sometimes (who am I kidding, most times) her lyrics are sad and confusing, so I picked one with *minimal* lyrics so that you could just enjoy with me the incredible melodies she produces. I am concerned about turning 22 now, though...hopefully she won't feel stranded for long!!!
7. What Love Really Means by JJ Heller - an oldie, but a goodie! This gem was performed by an incredibly talented individual several years back, and I heard it again on the radio a few weeks back...it paints such pictures of what lives are like without knowing God's love.
8. Multiplied by NEEDTOBREATHE - hmm, NEEDTOBREATHE...need I say more? P.S. I love it when they put out truly worshipful songs, like this one.
9. The Cause of Christ by Kari Jobe - my sweet parents...they continually bless me with good music! A few weeks ago, they gifted me with Kari Jobe's latest album "The Garden" and I. love. it. I can't wait to learn some for worship at church! This song is a great reminder of our calling as His children, and it reminds me to focus on the cause I live for daily.
10. Power to Redeem by Lauren Daigle - I can't get enough of Lauren's music. God has truly blessed her. We just recently learned this one to sing during Sunday morning worship, and although I *always* mess up on my harmony part (sorry, Poppa!), it is such a joy to sing this reminder about God's powerful redemptive workings!!!
11. I Have This Hope by Tenth Avenue North - the

message this past Sunday

reminded me of this song. "Through the flood or the fire, You're with me, and You won't let go." My friends, we have hope in the midst of trials!!! May we never forget!
12. Thrive by Casting Crowns - an upbeat and catchy ending to this month's playlist! I love lyric videos in general, but I *really* like the font used in this one and the tree backgrounds...not to mention the great encouragement to t h r i v e :) :)
So what have you been listening to this month? What has your spring looked like so far?